Welcome to the Allen County Child Support Enforcement Agency
Mission Statement:
The Allen County CSEA is committed to serving the families in our community by providing quality child support services through establishing parentage, enforcing support orders and collecting and disbursing child support. Our goal is to ensure that families receive the financial support to which they are entitled.
Disclaimer:
All information contained herein pertains to your support order in Allen County only and is subject to change without notice.

Hours of Operation:
Mon., Tues., Wed., Fri. - 8:00am - 4:30pm
Thursday - 9:00am - 4:30pm
General Information:
Allen County Child Support Enforcement Agency
200 W. Market Street
P.O. Box 1589
Lima, OH 45802-1589
Click here to contact us by email
Phone: (419) 224-7133
Toll Free: (800) 224-7133
Fax: (419) 222-6135
SETS VRU: (800) 860-2555
Obligor Responsibilties
(Party paying support)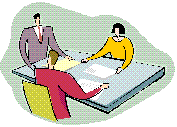 IT'S YOUR SUPPORT ORDER
BE AN ACTIVE PARTICIPANT
Inform CSEA of any changes in your or the Obligee's address, phone number, and/or employment status, health insurance, etc.
Pay your child support through CSEA. Do NOT make payments directly to the Obligee, as CSEA is unable to give credit for direct payments. By law, direct payments are considered a gift.
You are responsible for paying your support obligation in full each month. If payments are not being received from an income source, you must submit payments on your own through OCSPC. (See Payment Information sheet)
Inform CSEA of any of the following, including but not limited to: emancipation of the child, death of any party (child, Obligor or Obligee), permanent disability of the Obligor, any party becomes incarcerated, child on order is placed in the custody of Ohio Department of Youth Services (ODYS) or Children Services Board (CSB) and/or child becomes eligible as a dependent of Obligor for income through Social Security or Veterans' Benefits.
Provide CSEA with supporting documents to complete the emancipation process such as: copy of high school diploma or withdrawal letter from school when the child reaches age 18, proof of enlistment in the armed forces, court orders showing change in legal custody or adoption of the child, and/or certificate showing marriage of the child.
Enroll the child in a health insurance plan if you are ordered to provide medical coverage for the child by the court/CSEA.
Provide CSEA with all copies of court/administrative orders, or other documents, which may effect your Support Order, including but not limited to changes in custody, Support Order amount or Social Security benefits.
Keep any and all records pertaining to your Support Order.
When CSEA requests that you provide documents, you are required to submit them by the stated deadlines determined in the child support notice received.
Contact CSEA to report any problems or issues arising on your support case (example: arrears paid in full, spousal support obligation to end).
Become educated about your support order.
You are ultimately accountable for your order.
Know your rights and responsibilities and exercise them.