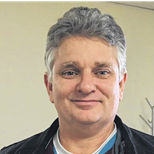 Allen County Coroner
A licensed physician, the Coroner has broad authority to investigate causes of death resulting from crimes or violent acts, suicide, or any death of a suspicious nature. In fatal automobile crashes, the Coroner determines the blood alcohol content of those who die.
The Coroner works closely with law enforcement agencies and the Prosecuting Attorney in preparing cases for trial. The Coroner performs autopsies, toxicology tests and testifies as an expert witness on causes of death in court. The Coroner's duties involve administrative matters, pathology, toxicology, histology and criminal matters.
John T. Meyer, DO DC, was elected to the position of Allen County Coroner in January of 2018. Dr. Meyer has been a resident of Allen County for 20 years and has three children. He graduated from National Chiropractic College in 1990 and practiced until 2002. He then went to medical school at the Lake Erie College of Osteopathic Medicine (LECOM) in Pennsylvania. He completed his residency at St. John Medical Center in Cleveland, Ohio, and is boarded in Emergency Medicine, as well as Internal Medicine. He has practiced Emergency Medicine at Mercy Health St Rita's Medical Center for the last 5 years.

Hours of Operation: 
Monday – Friday 8:00am – 4:00pm
Address:
204 North Main Street St. Suite 102
Lima, OH 45801
Phone: (419) 999-5700