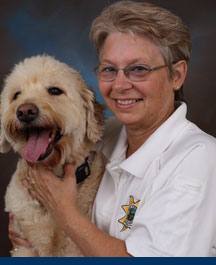 Welcome to the Allen County Dog Control Department
"The mission of the Allen County Dog Control Department is to enforce the dog control laws of the Ohio Revised Code in a consistent and efficient manner, always sensitive to the rights and welfare of Allen County residents as well as the humane treatment of dogs."
About Your Allen County Dog Control Department
The Allen County Dog Control Department is a law enforcement agency working under the authority and direction of the Allen County Board of Commissioners and charged with the enforcement of the dog control laws set forth in the Ohio Revised Code.
The Department employs the Dog Warden and Deputy Dog Wardens who respond to calls for service. Vehicles operated by the officers are white departmental lettering. Each officer wears a brown uniform with the Dog Warden insignia and is a trained and/or certified law enforcement officer. The Department also employs a Shelter Keeper and Shelter Worker who care for dogs in custody of the Department

Hours of Operation:
Monday – Friday 9:00 am – 5:00 pm
Dog Control Facility
1165 Seriff Road
Lima, OH 45805
Phone: 419-228-3700 ext. 8528
Email:  allencountyohdogwarden@allencountyohio.com
After Hours & Emergency Dispatch
Generally, dog control officers are on duty from 9:00 a.m. to 5:00 p.m. Monday through Friday. When staffing is available, the Department makes a strong effort to have officers on duty into the evening hours during the summer and during the day on weekends.
Under emergency conditions, a dog control officer, in cooperation with other local law enforcement agencies, is available on a call-out basis. The Allen County Sheriff's Office provides 24 hours per day, 7 days a week, emergency dispatch service for the Dog Control Department.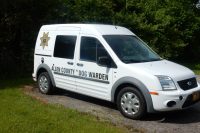 To leave a non-urgent voice mail message for a dog control officer, please call:
(419) 228-3700 Ext. 8528
Services
---
The Allen County Dog Control Department has five major service responsibilities under the Ohio Revised Code.
Enforcement of Registration and Dog License Requirements.
Enforcement of laws dealing with Dogs Running-At-Large.The law states that "No owner, keeper, or harborer of any dog shall fail at any time to keep it either physically confined or restrained upon the premises of the owner, keeper, or harborer by a leash, tether, adequate fence, supervision, or secure except when the dog is lawfully engaged in hunting accompanied by the owner, keeper, or harborer." (Ohio Revised Code, Section 955.22(C))
Enforcement of Proper Confinement Law.
Dog Wardens are responsible for enforcing the compliance requirements for dogs that have been designated as Dangerous or Vicious pursuant to Ohio Revised Code, Section 955.11. Click here to review the Dangerous Dog Compliance Requirements.
Housing dogs in custody of the Dog Warden.
In 2002, the Department began operating a Dog Control Facility at 1165 Seriff Road, Lima. All dogs in the custody of the Dog Warden are housed at this location for the holding periods defined by Ohio Revised Code. A dog with a displayed dog license is held until claimed by the owner to a maximum of 14 days. A dog without a displayed dog license is held until claimed by the owner to a maximum of 3 days.Dogs may be claimed at the Dog Control Facility during business hours.Payment of the following applicable fees is required to claim your dog:A housing fee of $13.50 per day is assessed to owners of dogs housed at the Dog Control Facility. Additionally, owners may be charged a $4.00 pick up fee and a $2.00 notice fee. If a dog is unlicensed, a license must be purchased prior the release of the dog. A license costs $22.00 during the registration period from December 1st through January 31st; a $22.00 penalty is added to that amount after January 31st.

Procedures and requirements may vary for claiming vicious and dangerous dogs, particularly if legal action is involved. Contact the Dog Warden for details and requirements specific to those instances.
---
Registering for a Dog License
"Every person who owns, keeps, or harbors a dog more than three months of age is required to register his or her dog between December 1 and January 31 of each year." (Ohio Revised Code Section 955.01)
In addition to registration, each dog is required to wear and display a dog tag at all times. (Ohio Revised Code, Section 955.10)

Dog licenses may be purchased on an annual, three (3) year, or permanent basis. A dog license must be obtained for any dog over three (3) months of age. For the forthcoming year, a dog owner can file for a dog license(s) beginning on December 1 through January 31. This allows a time frame of 60 days for the dog license to be secured. If the dog license is not secured on or before January 31 a penalty will be assessed. The penalty must be paid at the time of registration.
Dog license fees beginning December 1:
Annual dog registration: $22.00 per tag
Three (3) Year dog registration: $66.00 per tag
Permanent dog registration: $220.00 per tag
If a dog license is not secured by January 31 the fee is $44.00 per tag which includes the penalty.
A dog purchased during the year must be licensed within 30 days from the date the dog is acquired (penalty assessed after 30 days).
Notifications of dog license renewals are mailed prior to the registration period. The license may be renewed by mail in response to the renewal notice. The license may be renewed or purchased online via the Allen County Auditor's website or in person Monday through Friday at:
The Allen County Courthouse, Auditor's Office Room 106, 301 North Main Street, Lima, Oh 45801 – 8:00 a.m. to 4:30 p.m.
The County Dog Control Facility, 1165 Seriff Road, Lima, OH 45805 – 9:00 a.m. to 5:00 p.m.
General Information
Budget Funding
The Dog Control department is funded from the sale of dog tag licenses and related fee income. All proceeds from these sales and fees are placed in the Dog and Kennel Fund and are used to finance the Department's operations throughout the year. The funds are only to be used for dog control related expenses.
Ohio Revised Code
Most of the Ohio Revised Code references to dogs and the dog control function are found in Sections 951 and 955. Free, searchable versions of the Code are available online.
Staff & Calls for Service
The Dog Warden and Deputies cover the entire 109 square miles of Allen County including all cities and villages. The Department receives an average of 2,000 calls for service annually. Most of these calls are for dogs running at large, however the Department also responds to bite reports, humane care and emergency call outs.
Grant Funding
The Department also receives grant funding and accepts donations from the public. An example of grant funding received is through the Ohio Pet Fund Grants for Spay/Neuter/Education. Thanks to the purchase of Ohio's pet friendly license plates, the Department has been the recipient of funds from this program for several years. To learn more or purchase a Pet Friendly license plate for your vehicle click here.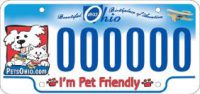 Adoptions
Adoptions are arranged directly through the Dog Control Facility, however, in all possible instances, dogs not claimed within the holding period are transferred to one of the available programs for adoption or placed with an animal rescue organization, foster care or breed rescue for training as public service dogs.
Many adoptable dogs can also be seen on Pet Finder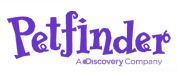 Donations
You can support the Dog Warden's office through donations. Visit the Amazon Wishlist for specific items of to purchase; donate a Kuranda Shelter Bed for the dogs waiting adoption; or use iGive to donate a percentage of your online purchases at hundreds of popular online merchants to help the dogs of Allen County. Click any of the icons below to support the shelter