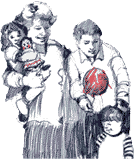 Family & Children First
"To initiate, build, and maintain collaborative efforts that support, educate and empower all families toward independence."
The Allen County Family and Children First Council (FCFC) was established in 1995 in response to the Governor's Family and Children First Initiative. The Initiative is a statewide effort to coordinate and plan services in the State so that every Ohio child can achieve the best outcomes and enter school ready to learn. The Initiative brings service programs together in an effort to cut red tape, increase local flexibility and focus programs on families and children.
The Council promotes coordination and collaboration among state and local governments, and public and private non-profit agencies to increase family stability, facilitate access to high quality pre-school and child care programs, and ensure that infants and children are healthy.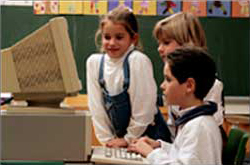 Each of the 88 counties in Ohio has a customized Family and Children First Council designed to meet the needs of that particular county. Representatives of thirteen public agencies/organizations are mandated members of each Council. In Allen County thirty non-profit social service agencies provide delegates.
The Council is the conduit for Ohio children's trust fund allocations, which are used for Child Abuse and Neglect Prevention Programs.
The implementation of the Help Me Grow program in Allen County is also the responsibility of the FCFC. The grant provides for home visits by social services professionals and nurses, service coordination, parent education and support, and an Individualized Family Service Plan for families whose children age birth to 36 months have a disability or are at risk of developing delay because of family or environmental risks.
For more information contact the Allen County Family and Children First Council:
Carole Enneking, Coordinator
P.O. Box 1243
Lima, OH 45802
Phone: (419) 228-3700  ext. 8721