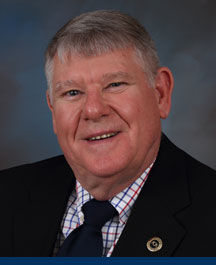 Allen County Coroner
A licensed physician, the Coroner has broad authority to investigate causes of death resulting from crimes or violent acts, suicide, or any death of a suspicious nature. In fatal automobile crashes, the Coroner determines the blood alcohol content of those who die.
The Coroner works closely with law enforcement agencies and the Prosecuting Attorney in preparing cases for trial. The Coroner performs autopsies, toxicology tests and testifies an as expert witness on causes of death in court. The Coroner's duties involve administrative matters, pathology, toxicology, histology and criminal matters.
Gary R. Beasley, D.O., FACOP, FACOEP, was elected the Allen County Coroner in 2005. Dr. Beasley has been a resident of Allen County for 16 years; he is married and has three children. Dr. Beasley graduated from the West Virginia School of Osteopathic Medicine in 1978. He completed his pediatrics residency in 1981 at the Chicago College of Osteopathic Medicine and obtained Permanent Certification from the American Osteopathic Board of Emergency Medicine in 1992.
He currently serves on the American Osteopathic Board of Emergency Medicine and is a Board Member for the Ohio State Coroner's Association. Dr. Beasley's military service included serving as a U.S. Navy Corpsman from 1966-1970 and as a flight surgeon with the U.S. Air Force during Desert Shield/Desert Storm. Dr. Beasley retired from the military in 1993. Dr. Beasley also served on the Allen County Tactical Team from 1993-2004. His membership in civic organizations include Optimist International, Fraternal Order of Police Association, Knights of Columbus, Elks, Eagles and the Reserve Officers Association. Currently, Dr. Beasley is a staff emergency room physician at St. Rita's Medical Center.

Hours of Operation: 
Monday – Friday 8:30am – 4:30pm
Address:
101 N. Elizabeth St. #510
Lima, OH 45801
Phone: (419) 999-5700