Hours of Operation:
Monday - Friday
7:30am - 4:00pm
Main Office:
3230 N. Cole St
Lima, OH 45801
Welcome to the Sanitary Engineering Department
The Allen County Sanitary Engineering Department is split into two divisions, the Wastewater Treatment Division (WWTD) and the Wastewater Collection Maintenance Division (WWCMD), with the main office of the Sanitary Engineer coordinating the day to day operations.
The WWTD is responsible for the maintenance and operations of all wastewater treatment plants and the operations of the sludge management program. The WWTD operates three major treatment plants located in Bath, Shawnee and American Townships and two smaller package treatment plants located in Auglaize and Richland Townships.
The WWCMD is responsible for the maintenance and operation of approximately 172 miles of gravity sewer lines, 48 miles of pressure sewer lines, 3665 manholes and 443 force main structures located within American, Auglaize, Bath, Jackson, Marion, Monroe, Perry, Richland, Shawnee and Sugar Creek Townships.
Projects
Gomer Sewer Improvement Area
The project area is an unincorporated area located along Pike Run in Sugar Creek Township. The Ohio Environmental Protection Agency (OEPA) has documented nuisance conditions within the area which have violated OAC 3745-1-04 (State Water Quality Standards) due to off lot discharge of sanitary wastes. Individual homes are served by cesspools, septic tanks or on-site home units which discharge off-site to various storm sewer outlets. Pike Run at Gomer is on the list of prioritized impaired waters in the "OEPA 2014 Integrated Water Quality Monitoring and Assessment Report" due to non-attainment of human health and recreation assessment criteria as a Class B, Primary Contact for Recreation use stream.
Project Updates
On May 15, 2015 notification was sent to OEPA for review for the General Study outlining alternatives to resolve the water quality violations.
Click here to view the Gomer General Study
July 21, 2016: A project update letter was sent out to all property owners within the project area. 
June 20, 2017: An informational meeting was held for all property owners in the project area. 
May 25, 2018: Household income surveys were mailed to property owners
July 27, 2018: Just over half of the income surveys were remitted back to us. A second letter with an attached income survey was sent to property owners who did not respond to the first mailing.
October 2018: The Income Survey process has been completed. The results came out in favor of qualifying for a CDBG loan. We will move towards our next step in the qualifying process.
March 2019: Application for USDA funding assistance has been submitted.
July 10, 2019: An informational meeting was held in the Dad's Club in Gomer.
February 27, 2020: 2nd Public Hearing/Informational Meeting at Sanitary Engineering Department.
January 14, 2021: On or about, but not before February 1, 2021 the Allen County Board of Commissioners will submit a request to the State of Ohio for the release of Federal funds under Section 104 of Title I of the Housing and Community Development Act of 1974… See full article Here.
January 24, 2022:  Pre-Construction Meeting was held. 
June 2022: Construction of the sewer mainline began. 
October 28, 2022: WPCLF applications were sent in the mail to all property owners to offer funding assistance for low-moderate income households. 
January 12, 2023: A notice was sent to property owners informing them the project is near completion.  Due to extra funding received, the Sanitary Engineering Department will provide a contractor for all connections in Gomer. See the detailed letter below:
---
Sweger/Fraunfelter Sewerline Extension Project
The project is being initiated due to the following:
1) There is an existing health concern and water pollution   hazard as documented by our department and the Allen   County Health Department. Ponding of sewage has been   identified on the eastside of Fraunfelter Road.
2) Resident complaints.
3) Failing and non-compliant discharging household sewage
treatment systems.
Project Updates
July 2022: Construction Completed.
---
Shawnee Sewer Sub-District SECAP
This is a capital improvement project that was developed to eliminate the Sanitary Sewer Overflow (SSO) throughout the Shawnee area. SSO's are discharges of raw sewage from municipal sanitary sewer systems. SSO's release untreated sewage into basements or out of manholes and onto city streets, playgrounds and into streams before it can reach a treatment facility.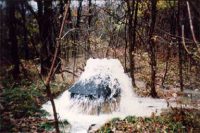 Manhole and Mainline Inspections were done to determine problematic areas where infiltration is occurring.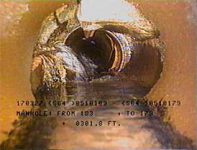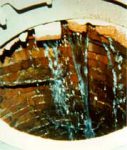 Lateral Inspections were completed by placing a portable camera within the lateral through a clean out. Once the camera has viewed the entire length of the lateral, all deficiencies are recorded and our office will give written notice to the property owners of repairs that need to be addressed. It is the responsibility of each property owner to make repairs to the laterals, outside of the road right-of-way, within ninety days.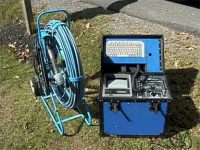 Project Updates
August 2016: Phase I flow monitoring began to determine capital improvement needs.
January 2019: To date the County has completed Phase 1 improvements which consisted of new gravity sewers, new pump station and force-main for the collection system and new head-works building with fine screening and in-fluent pumping, new 1.2 million gallon concrete flow equalization basin, new ultraviolet and post aeration building, and a non-potable water system, new 3,200 sq ft operations building, new electrical building with generator and electrical systems and miscellaneous site improvements for the treatment plant.
---